H2O2 Autoclave
Update time:2017-10-24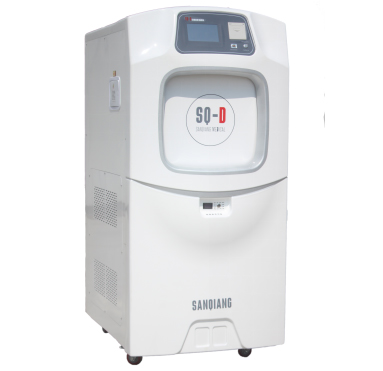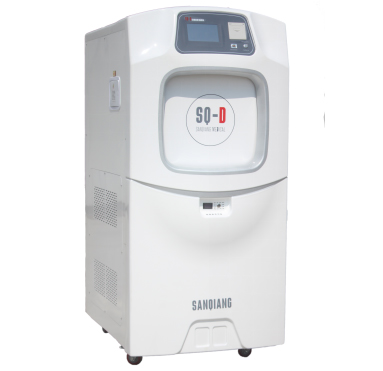 Full Automatic Hydrogen Peroxide
Sanqiang brand low temperature plasma sterilization system is in low temperature,vacuum,plasma generated by high frequency electric field in the sterilization chamber,wherein the active material and the microbial metabolism of protein and nucleic acid react to destroy microorganisms and disrupt the microbial survival function,with H2O2 as a medium role in the microbial cell,further on killing microorganism。
Can be sterilized articles and materials
Hysteroscopy, laparoscopy, laryngoscope, probe, rigid endoscope,hose endoscope,ophthalmic lens,fiber oplic cables,intracranial pressure sensor,cryotherapy probe,resection of the prostate,esophageal dilator,electrocautery apparatus,defibrillation electrode,laser head,metal,glass,silica gel rubber etc。
technical parameter
| | | | |
| --- | --- | --- | --- |
| Volume(L) | 100L | 130L | 190L |
| Sterilizing room size (l×w×h)cm | 70×43×36 | 75×45×40 | 82×51×46 |
| Outline dimension (l×w×h)cm | 108×80×171 | 108×80×171 | 108×80×171 |
| Weight(kg) | 290 | 310 | 400 |
| Sterilization temperature(℃) | 45-50min | 45-50min | 45-50min |
| Sterilization temperature(℃) | 50±5 | 50±5 | 50±5 |
| Sterlizing agent | 60%H2O2 | 60%H2O2 | 60%H2O2 |
| Power | 220V/50Hz | 220V/50Hz | 380V/50Hz |
| Total power(kw) | 3.95 | 4。35 | 5。15 |
| Installation environment temperature | 5~45℃ | 5~45℃ | 5~45℃ |
| Minimum installation space(l*w)cm | 200×300 | 200×300 | 220×300 |
| Minimum maintenance distance(m) | 1 | 1 | 1 |
Technological advantage
1。Low temperature sterilization:Sterilization temperature is50℃±5℃,low temperature with no humidity,no damage to the sterilization articles and equipment,can prolong the service life of precision instruments。
2。Green environmental protection:Sterilization agent using hydrogen peroxide solution,there is no residue of toxic substances,no drainage or ventilation required,there is no harm to the operator,air inlet and exhaust ports have high performance special filters。Can fully absorb the vacuum exhaust discharge process of H2O2,zero pollution to environment。
3.Stable sterilization:Sterilization room with aluminum or stainless steel,with superior anticorrosion and thermal conductivity,so that the temperature of the chamber is more balanced and effective,ensure the H2O2process to maintain the 100%gas.Hydrogen peroxide low temperature storagee system to ensure stable and effective hydrogen peroxide concentrationand will not be volatile.
4。Rectangle sterilization room design,loading more instruments at a time,more instrtuplents,improve the use space of sterilization room。
5.Sealing door security and stability:Use the top rod driven electic lift door,running smoothly,there are security interlocking devices,to prevent the operators bring risks caused by false operation.
6.Installation is simple:Using high intelligent control processor,one key start,the operation is covenient,can use power supply is connected.
7.Configuration:Control system,vacuum pump,pressure sensor,metering device,solenoid valve and other key hardware are imported componets.Multiple program selection,control system can be upgraded and maintained.
8。Save time and costs:The sterilization cycle is short,45minutes to complete sterilization,direct use,without any treatment。
9.Air inlet is equipped with sterile filter:Can effectively filter bacteria and microorganisms,to avoid emissions of residual gas.
10。U disk storage function。Disk capacity ≥ 8G,it can store records more than one million sterilization data, storage information, including program serial number, sterilization date, sterilization pot, sterilization start&end time and sterilization process pressure, Temperature, stage time and end status and other information, and provide computer graphics samples。
11.Biological Indicator Cultivator.Microcomputer-controlled biological indicator special temperature incubator for the monitoring of biological effects of biological indicators of the constant temperature culture process, the full range of ≤ ± 0.3 ℃ temperature control accuracy; temperature can be set.